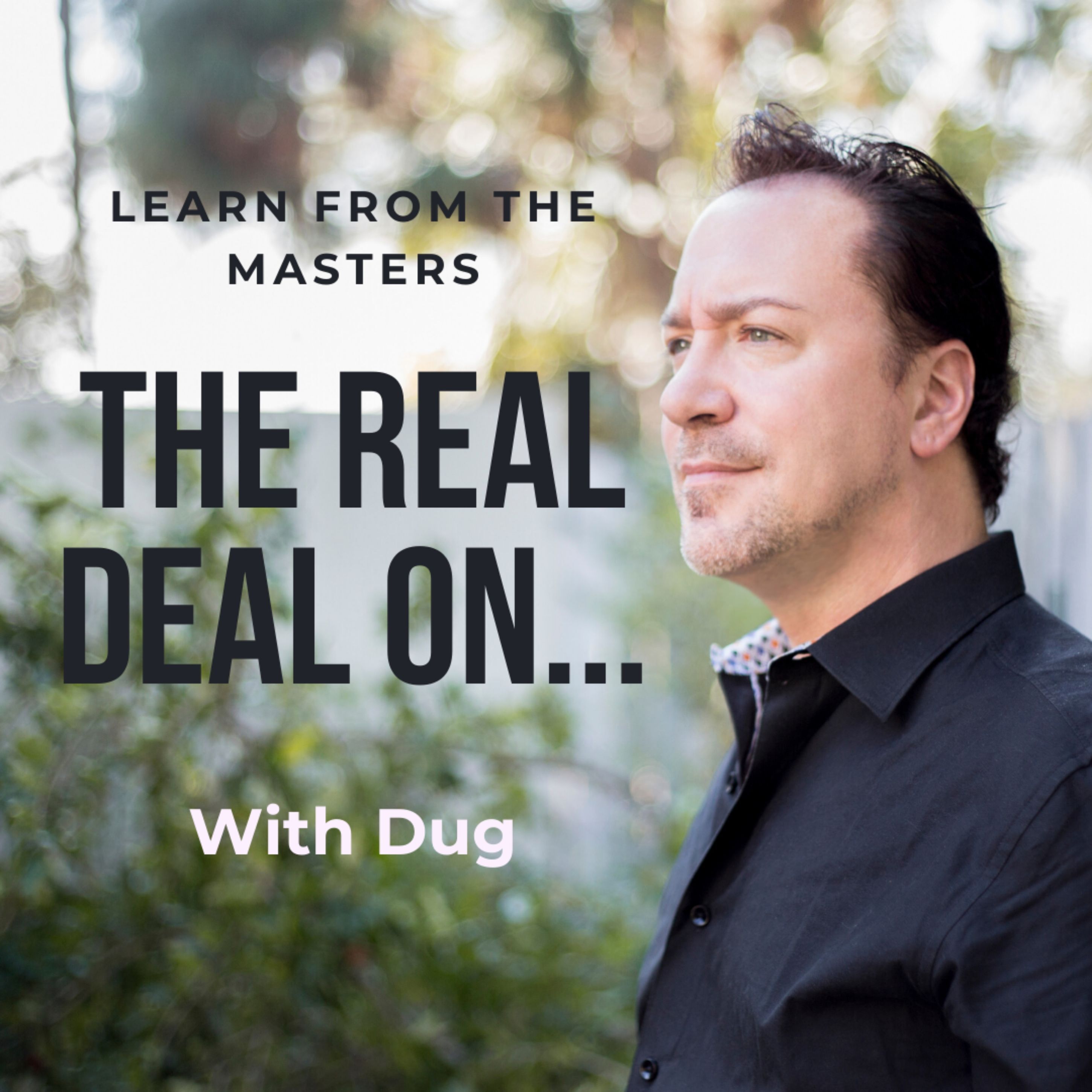 Get the Real Deal On success, business, relationships, health, finance and more from real deal masters! As a master practitioner and trainer of NLP, published author, participated in multiple Grammy-winning records and a former Top National Trainer with Tony Robbins, Dug has unique insights and skills to uncover success formulas.
Episodes
Monday Mar 29, 2021
Monday Mar 29, 2021
Shane figured out how to play "Mary Had a Little Lamb" at age three. Too tiny to actually reach the piano keys, he picked out the notes by reaching up and feeling for them with his fingertips. Thus began his lifetime of music. He's created music hand in hand with legends of the recording industry, ranging from Elvis Presley and Paul McCartney to Arif Mardin and Ahmet Ertegun. His diversity as a player, arranger, producer and composer is amazing: pop to classical, jazz to R & B, country to alternative, appearing in one form or another on many thousands of recordings.
Born in Huntington WV, Shane began formal classical piano training with Edith Sweeney before reaching his fourth birthday and moved to Portsmouth, Ohio when he was 7. There he continued piano studies in the years to follow with his adored teacher, Dorothy Knost. With her guidance, he began winning the coveted "Guild" piano competition awards year after year. At age twelve, while beginning junior high school, he met the inspirational Ralph Harrison, the McKinley Junior High School Band Director. Ralph asked Shane to join the school's orchestra and the big-band swing band. He also studied and performed choral music with another wonderful teacher and friend, Charles Varney, and with Bob McCoy at Portsmouth High School. Shane also began playing with many local musicians and bands in the Tri-State area. His family moved back to Huntington for his senior year, where he attended Huntington High School and enrolled at Marshall University, where he studied with Mary Shepp Mann. At the end of his freshman year, he left Huntington to "...travel and play music!...". He eventually moved to Dallas TX and soon enrolled in the jazz program at North Texas State University. By age nineteen, he was working in Dallas music production houses and studios, playing piano and organ two to three days a week on everything from film scores and records to radio libraries and jingles. He withdrew from NTSU and, seeking work as a studio musician, moved to Memphis. Within just a few weeks, he was blessed by reuniting with the legendary Jim Stewart of Stax Records and began working as a staff pianist/keyboardist in the Stax Rhythm Section. He also worked as a session pianist at Pepper/Tanner and with producers Al Jackson Jr., Willie Mitchell and Chips Moman. In 1971, Chips asked Shane to join the American Studios Rhythm Section as a staff pianist, where he worked with music icons such as Arif Mardin and many others. Learn more about creating financial and emotional freedom at www.freedomhacknow.com In 1972, Shane was in such demand as a pianist/session keyboardist from his work in Dallas and Memphis that he moved to Nashville. Word of his talent and abilities spread rapidly and he was soon working constantly. In 1974, he was contacted by Paul McCartney and performed on the "Junior's Farm/Sally G" sessions. Subsequently, Shane was called to play on several tracks on Elvis Presley's "Promised Land" album. Presley was so impressed with Shane's keyboard work that he personally requested Shane accompany him as pianist on the forthcoming '76 tour. His studio career continued at lightning speed, as he performed on and arranged hundreds of records for major artists. He also became an early explorer of synthesis and digital recording, purchasing a Mini-Moog in 1971 and purchasing his first digital audio recording system in 1981. In the late 80's, Shane had the great fortune of meeting legendary record mogul Ahmet Ertegun. Ahmet realized Shane's abilities and versatility and recruited him as a staff producer. He worked closely with Ahmet and with many of Atlantic's artists until April 2001, when he started his own independent production company. He returned to Nashville, TN in 2004 and continues to reside there. Shane currently performs live with Lynda Carter and is a member of the Musician's Hall Of Fame. As a producer/arranger, he's been twice nominated for a Grammy and received two Dove awards and one Cleo award. Shane is able to enrich any project he's part of, and he continues to be one of the most sought after talents in the industry.
Break free from whats holding you back from creating financial and emotional freedom! www.freedomhacknow.com